#CNI Lux Day 2: Imagining The Future
文章导读
Suzy Menkes hears visions of tomorrow's world from Michele Norsa, a director of Ermenegildo Zegna, and K11 founder Adrien Cheng
敬请期待中文版
Michele Norsa addresses the CNI Luxury Conference 2018 in Lisbon
Indigital
Alice Newbold, Vogue Daily Editor, reporting live from the CNI Luxury Conference in Lisbon
Michele Norsa's CV reads like a tick list of influential luxury Italian brands: Valentino, Salvatore Ferragamo and, most recently, Ermenegildo Zegna, where is on the board of directors. During his ten-year tenure as CEO at Ferragamo, Norsa was instrumental in steering its direction and its buoyant stock listing – no mean feat in an unpredictable sales climate.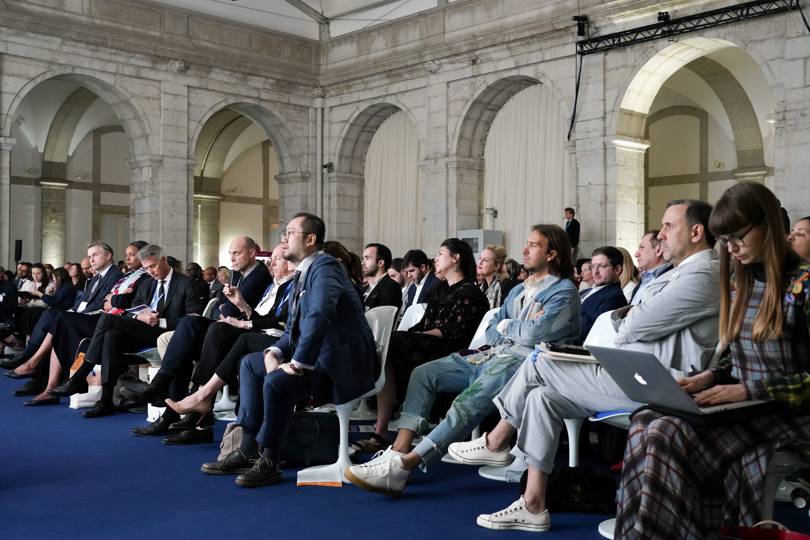 The audience at the CNI Luxury Conference in Lisbon
Indigital
"For the first time I feel like a free man," he said, addressing the Condé Nast International Luxury Conference. "I don't need to talk about the markets slowing or the growth of China, I can talk openly. I am a man of doubts."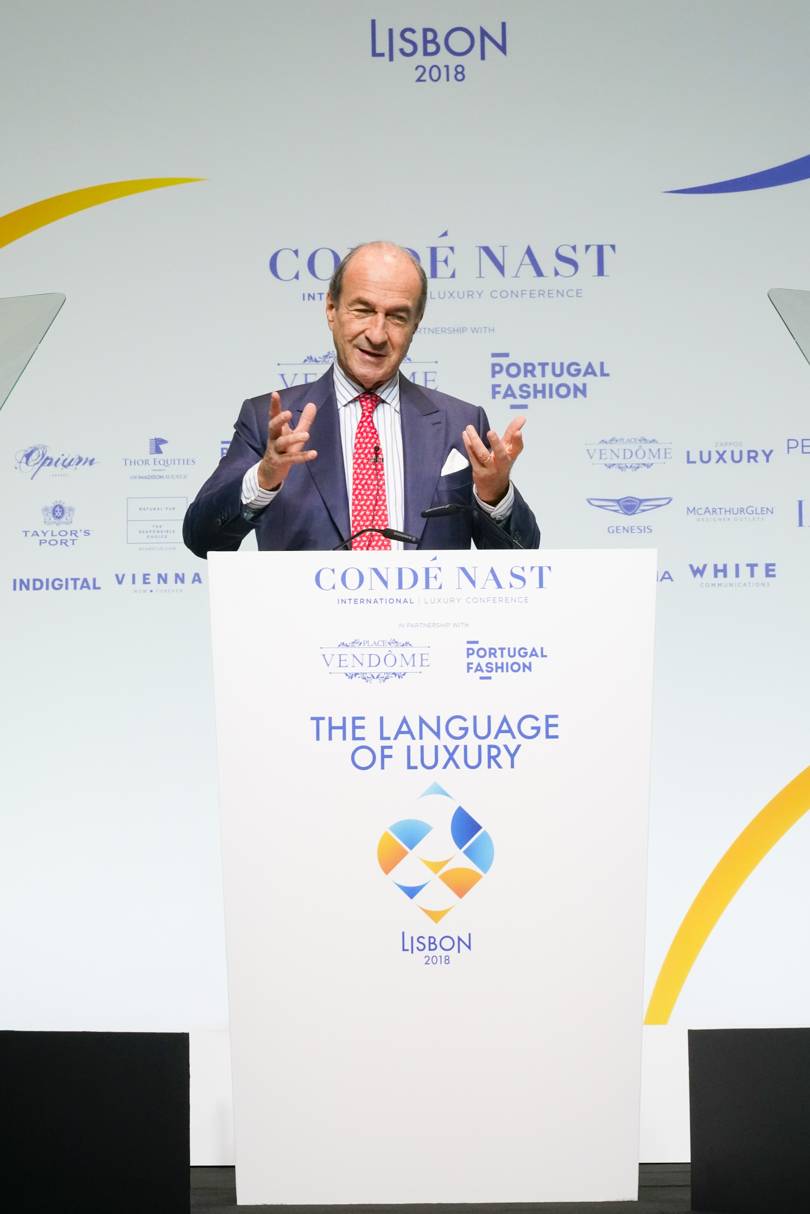 Michele Norsa addresses the CNI Luxury Conference 2018 in Lisbon
Indigital
"For many years I have [worked with] numbers. I love numbers," he said. "But at this point I believe it's better to feel than to project numbers." It's when Norsa travels that he feels, and he is guided by his feelings. He knows the best position for shops in key cities and maintains that most brands' mistakes are rooted in the size and location of stores. "Geography is becoming more important," he explained. "We must interpret geography, rather than targeting next generations."
Millennials, he said, have always confused him, because the dates that qualify a person to be a millennial are too wide. And, for him, it always comes back to geography: "A millennial in China has nothing to do with a millennial in the US!"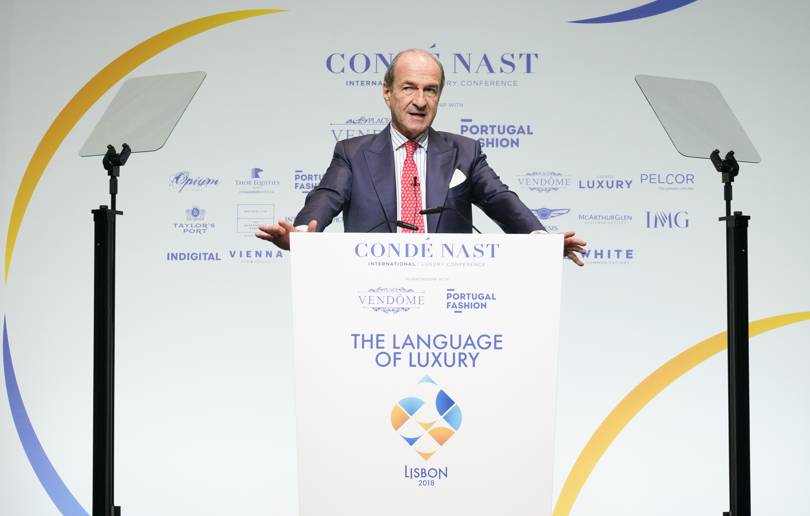 Michele Norsa addresses the CNI Luxury Conference 2018 in Lisbon
Indigital
His other main concern is privacy and cyber security. He believes in slower organic growth for brand extension, rather than quick expansion and brand dilution. The definition of luxury, he worries, is also being diluted because, "One third of brands included in the luxury sphere are not luxury. A lot of brands, like Hugo Boss, are on the border." His dream for luxury, he shared, is unlimited creativity, sustainable production, no counterfeits and a new omnichannel to maximise global communication and share ideas within the brands that qualify as luxury.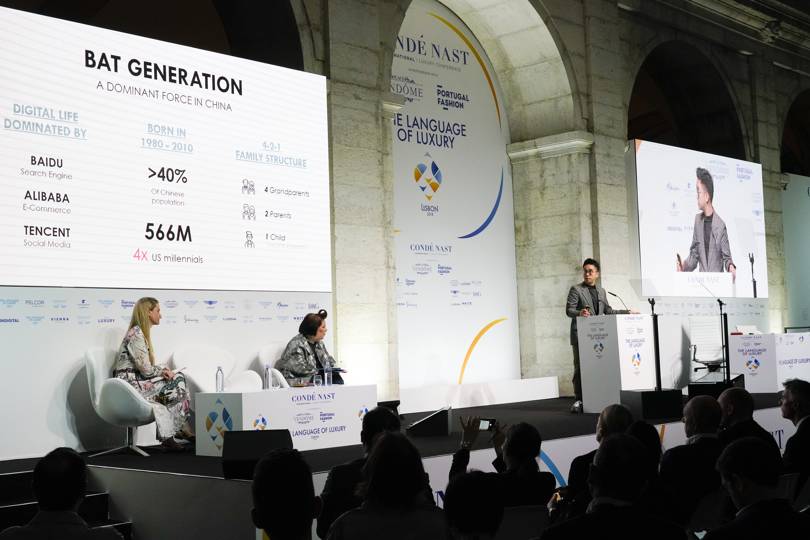 Adrian Cheng speaking about China's new consumer generation at the CNI Luxury Conference in Lisbon
Indigital
Adrian Cheng, founder of K11, the world's first museum-retail concept, and the charitable K11 Art Foundation, also has vision rather than growth at the centre of his business plan. As the heir of grandfather Yu-tung, the man behind Chow Tai Fook jewellery group, Cheng has been at the centre of the Chinese luxury infrastructure all his life.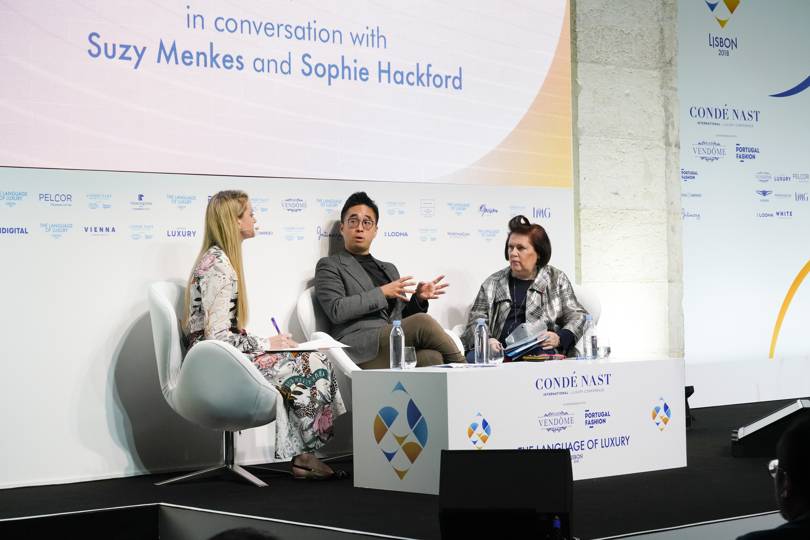 Sophie Hackford, Adrian Cheng and Suzy Menkes in conversation at the CNI Luxury Conference in Lisbon
Indigital
Ten years ago, Cheng told the conference, everything in China was homogenous. The young generation were demanding culture; they were bored with retail spaces that housed the same brands, but they didn't have cultural habits. K11 – a combined cultural content and retail hub – was the answer, and experiential retail appeared to be the holy grail.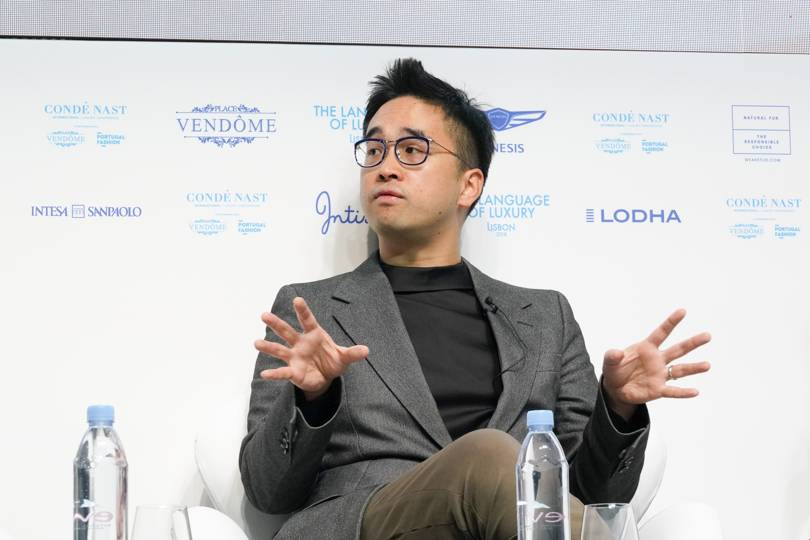 K11 founder Adrian Cheng addressing the CNI Luxury Conference in Lisbon
Indigital
Cheng's success is down to his understanding of what he calls the BAT generation: "The young generation are surrounded by Baidu, Alibaba and Tencent, China's three giant internet companies. They leapfrogged from desktop to mobile and are incredibly digital savvy." This generation only use WeChat – an integrated platform for many web apps including Facebook and Amazon – and brands can reach directly out to customers on them. They're cashless and shop in a strictly credit card culture with a lot of money to spend.
The 4-2-1 family structure is what makes this generation a rare breed. The one-child policy after 1979, means that they each have four grandparents and two parents. Their elders have many siblings and they too can have many children, but the entire family income revolves around the BAT generation which, accordingly, counts for one fifth of luxury product sales in China.
But, Cheng explained, there is "worry and fear among this young generation, they have support in reverse, and have never had financial burden". What this BAT generation will become in 2030 is what China needs to try and understand. Luckily, with its incredible access to consumer data, it has the power of prediction.
The fourth annual Condé Nast International Luxury Conference is in Lisbon, on the 18th and 19th April. For more information, visit the website
转载声明
本内容系VOGUE时尚网原创或经官方授权编译转载,严禁以任何形式或方法转载或使用,违者追究法律责任。
将本文分享到
你可能还会喜欢
更多相关网站内容